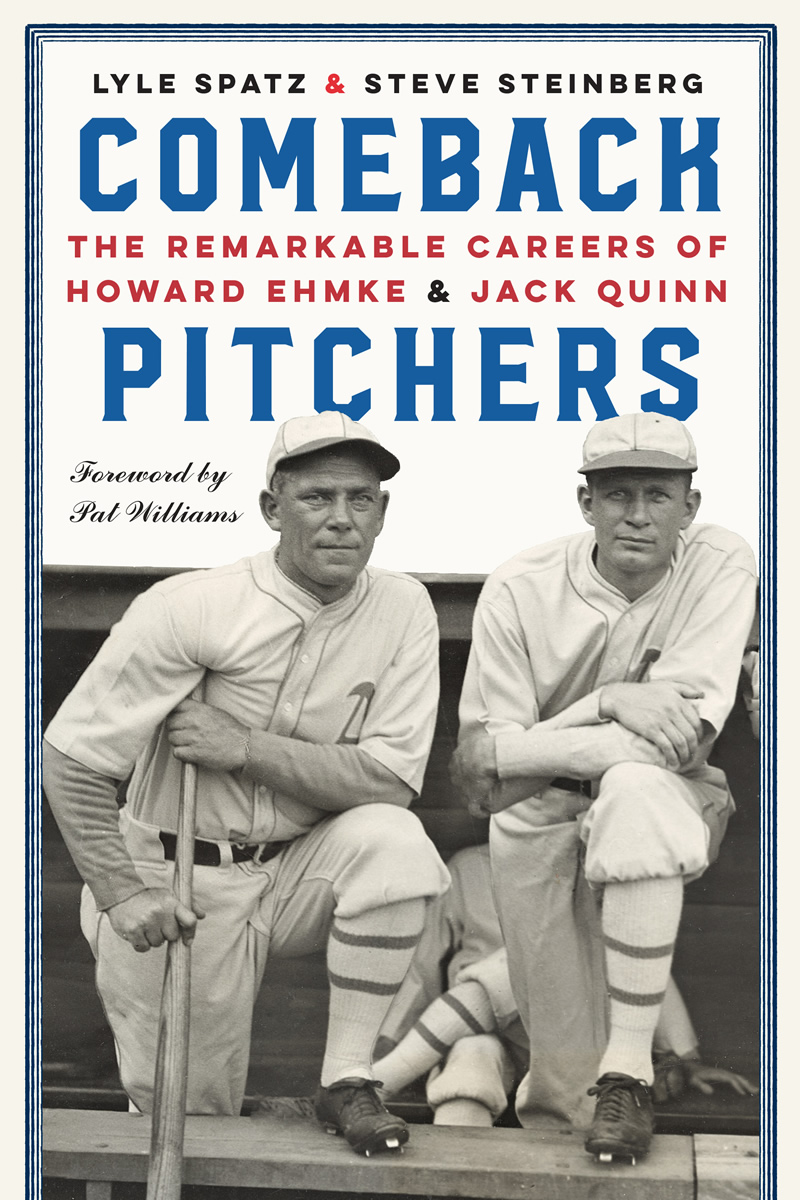 Spatz, Steinberg win 2022 SABR Baseball Research Award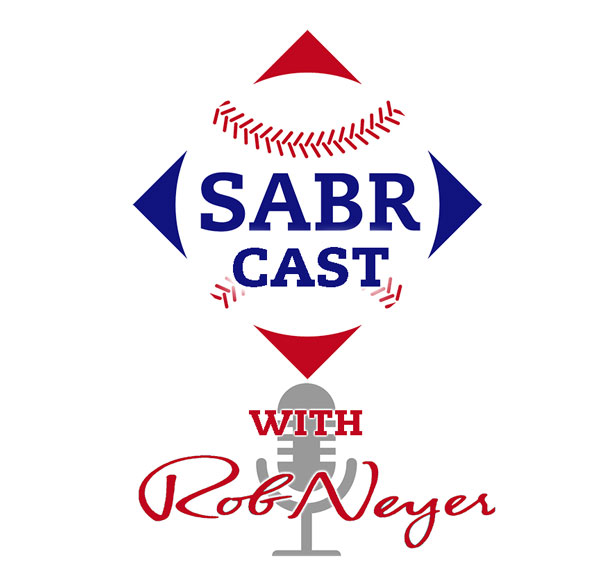 SABRcast with Rob Neyer - Episode #166 with Steve


Steve talks about research & writing, making history come alive
Steve's 20-minute interview with sports executive Pat Williams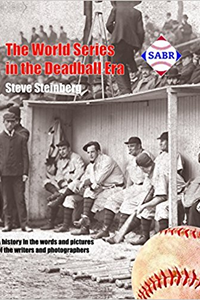 Steve discusses The World Series in the Deadball Erawith Brian Kenney of MLB NOW.
Read more about the book


Spring Training in Hot Springs, Arkansas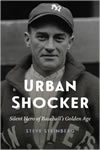 Steve Steinberg joins MLB Now to discuss his book about Yankees' pitcher Urban Shocker


Chris "Mad Dog" Russo talks to Steve about
the Deadball Era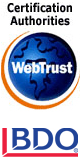 Steve's Upcoming Book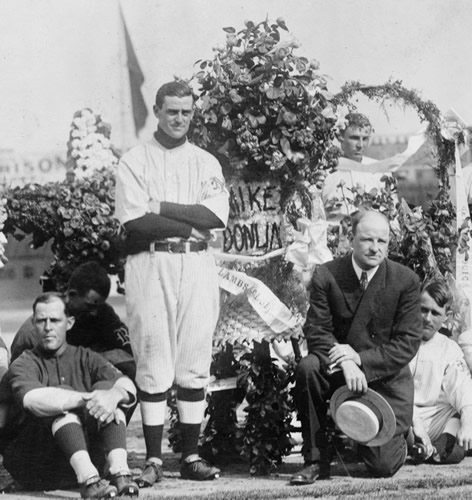 My latest book, the fourth with coauthor Lyle Spatz, will be published by the University of Nebraska Press in spring 2024. It is the story of Mike Donlin, one of the greatest baseball players ever. With one of the game's highest career batting averages, .333, he was a star of the great New York Giants' teams of the early 1900s, led by legendary manager John McGraw.
Donlin was one of the first "bad boys" among sports stars, with a violent streak compounded by his alcoholism. His battles with umpires led to numerous suspensions, and one incident outside of baseball resulted in prison time. Haunted by tragedy throughout his life, he was nevertheless a charming and kind-hearted man who went on to successful careers both on the stage and in motion pictures.

At the height of Babe Ruth's fame in the 1920s, journalist Damon Runyon wrote, "'Turkey Mike' [nickname for his brash strut] was the most picturesque, colorful baseball player I ever saw. . . . Babe
Ruth may be able to hit more home runs, but Babe never had quite the appeal to me as a showman that Mike did."
After leading the Giants to the 1905 world championship, Donlin married one of the leading vaudeville actresses of the time, Mabel Hite. Hailed as a comic genius, she saved him from alcohol: he 'went on the wagon' for the woman he loved. Mike walked away from baseball at the height of his career, joining Mabel on the stage late in 1908, where they earned $2,000 a week. Entertainer Will Rogers recalled the night Mike and Mabel opened on Broadway. "In my thirty years in all branches of show business, I never heard such a reception. It's always lingered in my memory." He also noted that their 1906 wedding was"the most popular wedding New York ever had." A Power Couple of the early 20 th century, theirs was a love story with redemption of a man thought to be incorrigible.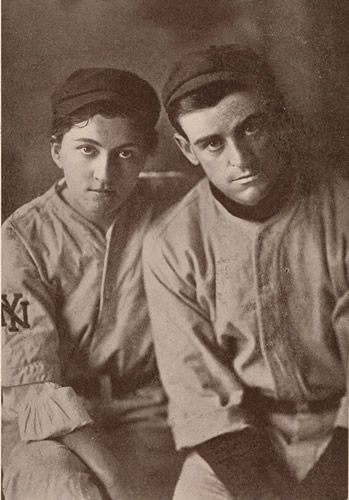 Mabel tragically died of cancer in 1912 at the age of 29 in 1912, just as silent films were about to take off. Mike continued to appear on the stage and became a beloved figure on the back lots of Hollywood. He appeared in about 100 films, many of them uncredited, and mostly in small roles. Actors Buster Keaton and John Barrymore became his drinking buddies.
His 1933 New York Times obituary noted he was "one of the first [baseball stars] to grip and captivate the imagination of the public." Donlin was more popular than teammate Christy Mathewson. Yet he has been forgotten, an larger-than-life athlete who flirted with sports greatness and a rare figure who achieved success in different entertainment realms.

I'm glad you stopped by www.stevesteinberg.net. This site focuses on my research, writing and publishing, most of which revolve around the history of our National Pastime, the game of Baseball.
As I approached the age of 50, my world turned upside down when my career in retail came to an end. It was then that I discovered my passion for baseball's past, especially the people who took part in it. Within each one of them lies a story of significance and a vital part of the game's memories. My role has been to help rekindle those memories, to bring them back to life.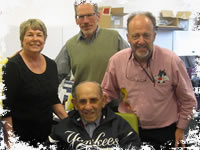 (l-r), Toni, Mollett (Casey Stengel's grandniece), Dave Kaplan (Director of Yogi Berra Museum and Learning Center), Yogi Berra (seated), and Steve Steinberg
Time travel is possible. Don't let anyone tell you otherwise. Whether you access it from a book, photograph, film, web site, or the Dakota apartments, it can be done. Time and Again. It takes a special mix of believing and suspending belief. The rewards are beyond measure.
In the past few years, I have made acquaintances with people in their 80s and 90s, who remember baseball in the 1920s. New friends, old friends. They are not simply links to the past; they facilitate my travel to that past.
Many of my friends do indeed live in the `teens and 1920s. I visit their world with respect and awe. It is a world of a stick and a ball and a vast expanse of grass. While things around the ballpark have changed beyond belief, the world within has stayed the way it was.
Books, articles, and research projects are taking shape in my mind every day. I hope you stay here a while and see what I see, a timeless world of a perfect game, and the people who took part in it.